NF ELITE SELECTION
MIC FOOTBALL
Join the NF Elite Selection in MICFootball, one of the top youth football tournaments in Europe! It takes place in Costa Brava, near Barcelona in April. MICFootball is a high-level tournament where the best international youth teams face off.
NF Academy will bring all of its talented players from all around the globe to participate in this elite tournament. We will be seeking and evaluating potential candidates throughout the year.
WHO IS IT FOR?
Players who wish to represent NF Academy at this competition will have to apply and be approved to participate. We are looking players from good-high regional level to top international level. On this tournament we will bring two Elite Scholarship teams that will participate on the U16 and U14 age categories besides the NF regional teams.
NF Academy will bring players in the following age groups:
Team 1: U14 (born 2006)
(U13-2007 players can be selected, depending on their level)
Team 2: U15 – U16 (born 2005-2004)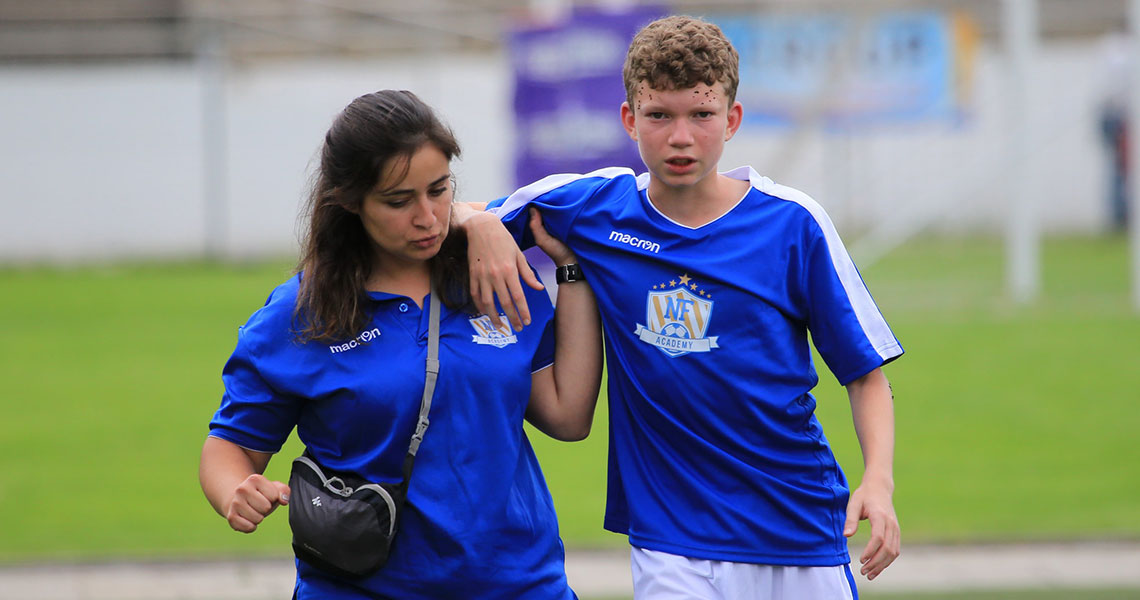 GOALS WITH THE PROGRAM
Our main objectives in NF Elite Selection MIC Football is to provide players with international match references against strong teams, give the players a better understanding of the game and provide experience in integrating into a team with good players from different countries.
During the preparational training camp and tournament, we will do a full evaluation of all the players. Each player will have a meeting with their head coach and get detailed feedback on what they need to improve to reach a higher level. All the players will be provided with an evaluation report with the purpose to give guidance for their training work when they return to their country.
«I participated with NF Academy's U13 team, which was great! We got to the quarter-final, where we lost to Sporting CP on penalties. The whole setup is great with some very good coaches!"
Niklas Haugland, Leeds U23 and Norway U17 national Team
PLAYER
• Hotel accommodation for 8 days / 7 nights
• Breakfast, lunch and dinner (dinner upon arrival, breakfast on departure)
• Four training sessions of 90minutes each two days before the tournament
• Experienced NF Academy head coach per team
• 1 physiotherapist and goalkeeper coach shared between the NF teams
• Team and individual meetings
• Social program and supervision of players
• Individual player report
Price per Player
1250 EUR (8 days / 7 nights)
FAMILY
• Hotel accommodation for 8 days / 7 nights
• Breakfast, lunch and dinner (dinner upon arrival, breakfast on departure)
• Bus transportation to training sessions and matches
• Participation in Team and Individual meetings with players
Price per Person – Double Room
750 EUR (8 days / 7 nights)
EQUIPMENT
• Full Kit – 119 EUR
Includes: Home & Away Jerseys, 2 training shirts, 2 shorts, 2 pair of socks and 1 sweater
• Team Kit – 69 EUR
Includes: Home & Away Jerseys, 2 training shirts and 2 shorts
TOURNAMENT FACTS
MIC Football is an international elite tournament with around 360 participating teams from all around the world. The tournament will in 2020 be hosted for the 20th time with teams in the age categories from U12 to U19. Matches are played on booth artificial and natural turf  in Costa Braca, Spain.
More information: https://www.micfootball.com
LOCATION
MIC Football is a great program to combine with family holiday. In the area the tournament takes place, families will be able to enjoy sandy beaches and exploring the charming region of Costa Brava with restaurants, bars, cafes and shopping opportunities.
The Costa Brava is a coastal region of Catalonia in northeastern Spain, a popular touristic destination due to its beautiful beaches. Costa Brava stretches from the town of Blanes, 60 km northeast of Barcelona, to the French border.
I AM INTERESTED AND I WANT TO JOIN
* These fields are required.
OTHER INTERNATIONAL TOURNAMENTS
FIND YOUR EVENT
- Choose one option - You will be automatically redirected to the selected option results -