The Road to Sporting
The Road to Sporting
Blertun Isufi, Noah Solheim, Sahle Wålberg, Alfredo Steiner, Ingvar Kolbjørnsen and Bashir Bashiir are the first six NF Academy players to win a tryout at Sporting Academy. More players can get this opportunity through the autumn programs in Scandinavia.
NF Qualification camp in Nyborg, Denmark, has gathered 59 players from Norway, Sweden and Denmark. They were all hand-picked through the NF International program or specifically invited in due to their performance and development over the last months in other NF Academy programs.
"I am completely speechless to have this opportunity, but at the same time very grateful and proud. There were a lot of really good players here. My first program with NF Academy was NF Elite Training Camp in Portugal. It is very fun to work out with Sporting. The trainings in the NF Academy are also very good with high intensity and led by solid coaches", says the Swedish player Sahle Wålberg.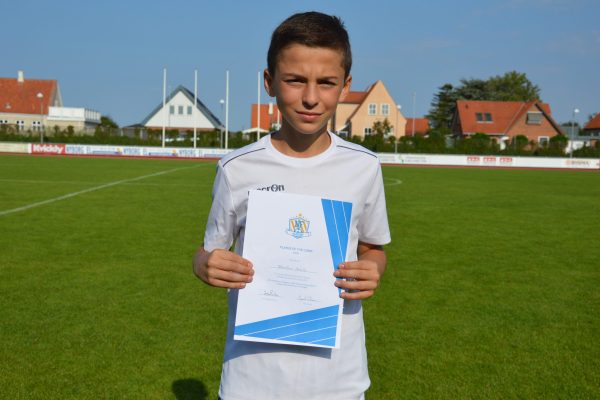 Local training camps can provide international opportunity
Blertun Isufi is new to the NF Academy system and completed his first program in Tønsberg this summer.
"Here I had very good trainings, and I am very excited to have this chance. I came to Denmark with this in mind, so I'm happy" says Blertun Isufi.
The road from a local NF Academy program to a try out with Sporting's talented young players can be short and NF Academy is looking forward to give more players this opportunity.
This fall, there will be an opportunity to join NF Academy's program in several Norwegian cities. NF Weekend Training and NF Autumn Training are local programs that will be in several places in Norway during the autumn, where you can already register through NF Academy's event calendar.
The programs are open to all boys and girls who are passionate for football. They will be coached by player developers with background from the world-renowned academies of Benfica, Sporting or other European top clubs. The sessions are of high intensity and quality, where players are both guided and inspired to take the next step.
Emanuel Mesquita is one of the coaches who has been responsible for several programs in Norwegian, Swedish and Danish cities over the past year. He was impressed with the level in Denmark during the NF Qualification Camp.
"It is fantastic to work with so many players with such a high level. It also provides very good workouts for both them and us. This has been a great weekend to drive the player development we want to work on." says NF Academy coach Emanuel Mesquita.
Alfredo and Ingvar, products of NF Academy's training
Alfredo Steiner has trained with the Sporting Academy in the past. The Swedish talented 2006 player was discovered during NF Elite Training Camp in Portugal in 2018. Now he will revisit the academy which has developed players like Figo and Ronaldo.
"In Sporting, you must focus to player tour own game. You have to take care of yourself and show self-confidence. If you do, things will go pretty well. In this NF Academy program, there was a lot of great talent, and I am grateful to have this opportunity. I did not expect this, and the goal was to develop further with good players and coaches this weekend in Denmark", says Alfredo Steiner.
Ingvar Kolbjørnsen and Bashir Bashiir were the last two players to receive the try out award with Sporting. Ingvar has been part of the NF Academy system since the fall of 2017. Through a variety of programs, the 2005 player has taken great steps in his development. He has led the G16 team to Brann this summer, and now he won a training stay in Sporting in the fall.
"I didn't believe it would happen, but the hope was of course there. There was a very high level of players and this was fun. I have participated in several programs and have learned a lot as both player and person through the NF Academy system", says Ingvar Kolbjørnsen
I want to train with NF Academy
Send us a short request with the player's background and the type of activities you want to participate in. We follow up with advice on which local and international programs can suit you.
* These fields are required.